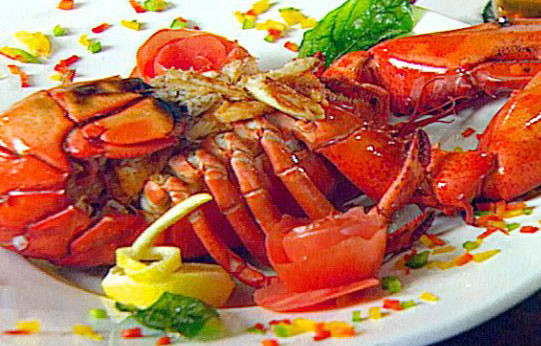 What is a soft shell lobster? Exactly what the name implies, a lobster with a soft shell. But how this crustacean ends up without its hard outer layer is quite fascinating.
Lobster Uncooked on Ice As many as 25 times in the first 6 to 7 years of life a lobster will outgrow its shell.
Thereafter, around every two years the female will outgrow her, and once a year the male will outgrow her. When this happens - typically in the spring or fall - a molting process begins.
How Does a Lobster Molt?
Because its shell is rigid, the lobster has limited space for growth. The solution? Discard its shell. But first, the lobster grows a new soft shell Underneath it. Once it has formed, the lobster slips out of the old, abandoning it forever.
However, since the lobster's new shell is only paper thin, making it vulnerable to injury and to prey, it isn't fully sea worthy.
For several weeks, while its shell hardens enough to offer adequate protection, the lobster will seek Shelter near the cracks and crevices of secluded rocks.
And, until it becomes a hard shell lobster again, it will be referred to as a soft shell lobster, a shedder, or a new shell.
Buying Soft Shell Lobster:
It is easy to distinguish between a hard shell lobster and a soft shell lobster. Just a slight Squeeze of the shell and you will know. A hard shell will not have any "give" - ​​a soft shell will. Which one should you buy?
Soft shell fans claim that their meat is sweeter and more tender than that of their hard shell counterparts, that they are MUCH easier to eat because of their soft shells - sometimes only requiring bare hands to do the cracking, and that they cost less.
People who do not like soft shells say -
The meat is watery and has less flavor, they are not fun to eat because there is no "work" involved in getting the meat, they are not suitable as grilling lobsters, and that they only cost less because their shells contain less meat .
From my own experience, I have found ALL of these statements to be true! Perhaps these factors depend on where the lobster was in the molting process when caught? I don't know. But either way, hard shell lobster or soft shell lobster, it is hard to go wrong!
If you are going to have someone ship lobsters to you, more than likely since they are very fragile, you will not have the option of buying lobsters with a soft shell.
On the other hand, when buying live lobsters at a pound or in the store, you may have a choice of hard or soft during the molting season - typically summer and fall.
<iframe width="1280" height="720" src="https://www.youtube.com/embed/jfhmkydHIvg" frameborder="0" allow="accelerometer; autoplay; encrypted-media; gyroscope; picture-in-picture" allowfullscreen></iframe>
Related Posts: